"Professional coaching is the support of people or teams for the development of their potential and their know-how within the framework of professional objectives"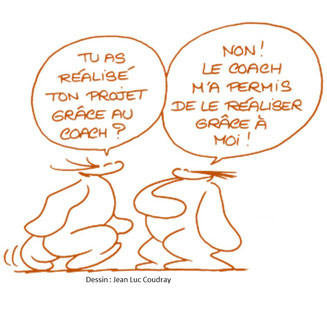 ICF also defines coaching as partnering with clients in a thought-provoking and creative process that inspires them to maximize their personal and professional potential.
To accompany the evolution of a person, a team or an organization, the coach relies on the art of the relationship which allows interact with someone in such a way that he carries out the projects he chooses to implement by transforming, if relevant, his attitudes and skills.
Drawing translation: Left: "You have realized your project thanks to your coach?" Right: "No! The coach has enabled me to realize it thanks to me!"
The different modalities of professional coaching as defined by EMCC
Individual coaching

:
Individual coaching makes it possible to develop new solutions and behaviors in line with the challenges of the person and the needs of the company. The work is done face-to-face, in the form of sessions between the coachee and his coach spaced 1 to 3 weeks apart. It can include skype or phone sessions.
Some types of individual coaching :
Development Coaching :
– Challenge: This type of coaching is suitable for situations where the coachee will have to take on new responsibilities and make a significant change in posture.
– Examples: taking up a position, change of function or scope, promotion, new project, new leadership challenge.
Transition Coaching :
– Challenge: This type of coaching is suitable for blocking situations where the coachee is faced with a recurring problem that hinders his personal and professional development.
– Examples: personal effectiveness, stress management, relational blockage, lack of self-confidence, difficulty asserting oneself, "fear of winning".
Decision-making coaching :
– Issue: This type of coaching is suitable for delicate decision-making situations by a leader.
– Examples : Choice of investment, choice of professional orientation, choice of team composition.
Crisis Coaching :
– Issue : This type of coaching is adapted to emergency situations to provide support to people who are going through a serious crisis.
– Examples : loss of a major contract, sudden change in the environment, relationship conflict, situations of violence at work.
Support coaching :
– Challenge : This type of coaching is suitable for situations where a person is going through a difficult personal or professional passage, in a context of individual weakening. The challenge is to help regain momentum and consistency.
– Examples : Burnout, loss of motivation, unwanted professional development, retirement.
Performance Coaching :
– Challenge : This type of coaching is suitable for situations where the person is looking to acquire additional skills necessary for the position leading to greater performance.
– Examples : public speaking, priority management, goal tracking, leadership.
Collective coaching : Collective or team coaching is to allow each member of the collective to express their respective talents in the service of the team, and of its common purpose. We can distinguish 2 main categories of team support: team building and team coaching. The methods of intervention are specific. Team Coaching is long-term (6 to 9 months) with work sequences planned in advance (every month for example).
The team building :
– Challenge : Team building, or team building, aims to strengthen the bonds between team members. This type of coaching is suitable for team building situations or following a major reconfiguration: reorganization, departures, change of leader, etc.
– Examples : The issues targeted are the quality of interpersonal communication, knowledge of others and their needs (intimacy), sharing of frames of reference.
The coaching team :
– Challenge : the objective is to work on collective performance (collective intelligence). A team coaching accompanies a group as closely as possible to its operational concerns, to achieve better results through greater collective efficiency.
– Examples : launching a project, developing a roadmap, operational efficiency, innovation, etc.
Organizational coaching : is at the crossroads of several positions :
Coaching of the entire ecosystem of its client with the creation of a COPIL throughout the process.
Collective coaching : of the management team, business teams, innovation project teams.
Coaching of Leaders and Actors of internal and external transformation.
The coach is not a teacher or a trainer (I do not teach specific knowledge or train specific techniques to achieve the objectives)
The coach is not a consultant (the consultant is the one who proposes solutions and can also advise in their implementation, or even realize them; the coach, on the contrary, does not define or propose solutions for the client, even if he can occasionally advise)
The coach is not a therapist (no work on the origin of the difficulty but a "solution" oriented collaboration with the client), work which can also be completely complementary to coaching.
In other words, the coach accompanies a person or a team to achieve their professional objectives, using their own resources, i.e. those of the person or team in question.
SOME "TYPICAL" CONTEXTS OF INTERVENTION IN INDIVIDUAL & GROUP COACHING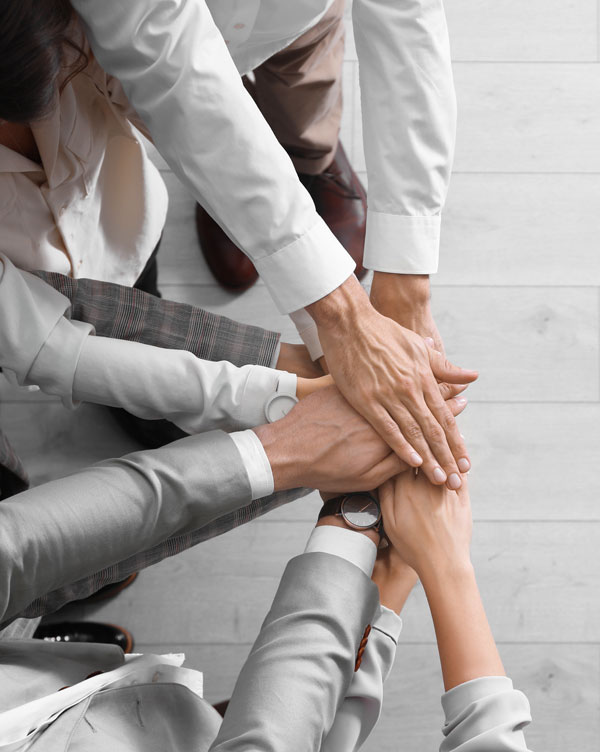 Support for change for the entrepreneur, the leader, the manager :
Develop a new activity, refocus an existing activity, choose your investment
Developing your steering commitee, supporting your your steering commitee in change, reorganizing your company
Launch, develop your business, express your vision, your ambition, and structure it, manage delicate situations
Bounce back from failure
Changing jobs within the company
Integrating a new position, a high-stakes team
Integrating into a multicultural team
Successful professional transition
Develop your leadership and impact in the company, your managerial performance
Overcome crises, difficulties, problems or conflicts
Improve your communication, regain your motivation
Better manage emotions, improve stress management, self-confidence, assertiveness
Improve decision-making, speaking
Improve your time management
Strengthen team cohesion, work better together
Increase the maturity of the team and bring it to a level of collective intelligence
"The coach undertakes to mobilize all his skills and all the means he deems appropriate for the accomplishment of his mission. He is bound by the strictest confidentiality."
My ethics can be consulted on the EMCC website, based on the following fundamentals:
CLIENT RELATIONS
Background, Contract, Integrity, Confidentiality, Inappropriate Interactions, Conflicts of Interest
PROFESSIONAL CONDUCT
Preservation of the reputation of the profession, equality and diversity, violation of the code of ethics, legal and regulatory obligations
PRACTICAL EXCELLENCE
Professional skills, permanent supervision, continuous professional development